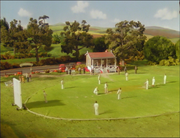 The Elsbridge Cricket Field is right next to the station. During a game, a player accidentally hit one of their balls into Stepney's train, resulting in Caroline chasing after him.
It only appeared once in the Railway Series and the television series, in Stepney the "Bluebell" Engine and Train Stops Play respectively. It also appeared in the annual story Thomas and the Cricketers.
In the television series, the field appears to be located next to Bulgy's Bridge.
Gallery
Ad blocker interference detected!
Wikia is a free-to-use site that makes money from advertising. We have a modified experience for viewers using ad blockers

Wikia is not accessible if you've made further modifications. Remove the custom ad blocker rule(s) and the page will load as expected.