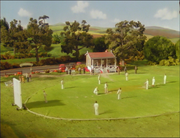 The Elsbridge Cricket Field is right next to the station. During a game, a player accidentally hit one of their balls into Stepney's train, resulting in Caroline chasing after him.
It only appeared once in the Railway Series and the television series, in Stepney the "Bluebell" Engine and Train Stops Play respectively. It also appeared in the annual story Thomas and the Cricketers.
In the television series, the field is located next to Bulgy's Bridge, on the opposite side of the road as Bulgy's Field.
Gallery