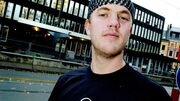 Elling "Batman Zedong" Øgrim Borgersrud (born on March 15th, 1975) is a Norwegian singer and rapper. He is well known for being in the rap-group "Gatas Parlament", along with his brother Aslak and their friend DJ Don Martin Stock. He had also taught several rap courses in Norway, including courses for girls, organised by Active Female Culture (AKKS)
He performed the Norwegian version of Thomas, You're the Leader, along with Espen Grjotheim. 
External links
Ad blocker interference detected!
Wikia is a free-to-use site that makes money from advertising. We have a modified experience for viewers using ad blockers

Wikia is not accessible if you've made further modifications. Remove the custom ad blocker rule(s) and the page will load as expected.