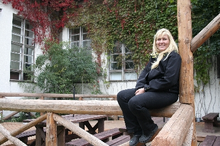 Elise Langenoja is a Finnish voice actor who provides voices for the Finnish dub of Thomas & Friends. She also used to voice act in the Finnish dub of sister show, TUGS.
Other Finnish dubbing credits include: Mrs Turner and Vicky in "Fairly Odd Parents" "Recess" "Teenage Mutant Ninja Turtles",  "DuckTales" (2013), "Pokémon", and many more.
Voices
Trivia
"Welcome to the Steamworks, my friend!"

This article is a stub. You can help by expanding it.