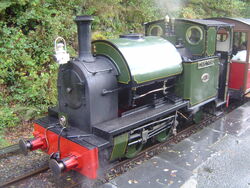 Edward Thomas
Number: 4
Primary function: Passenger service
Class: Kerr Stuart Tattoo
Designer: Kerr, Stuart & Co.
Builder: California Works
Built: 1921
Gauge: 2ft 3in
Configuration: 0-4-2ST
Driving wheel diameter: 2' 0"
Trailing wheel diameter: 1' 4"
Coupled wheelbase: 3' 0"
Total wheelbase: 7' 6"
Cylinder size (bore/stroke): 7.125 x 12"
Heating surface: 115 sq. ft.
Working pressure: 160 psi
Tractive effort: 3450 lbs
Weight: 9.25 tons
Length over buffers: 16' 8"
Edward Thomas is a 0-4-2ST built in 1921 by Kerr, Stuart and Co. Ltd. for use on the Corris Railway.
Bio
Edward Thomas worked on the Corris Railway, along with Sir Haydn, until the line's closure in 1948. He was purchased by the Talyllyn Railway in 1951 and named after its former manager. After repairs were carried out by the Hunslet Engine Co., the engine entered service on the Talyllyn in 1952 and has proved most successful. From 1958 until 1969, a Giesl ejector was fitted instead of a conventional chimney, the first such installation in the British Isles.
Until 2000, the engine ran in the guise of his twin, Peter Sam, in red livery. He was then repainted into the British Railway black, the colour he might have acquired had the Corris line survived a little longer. An extensive overhaul, which included the fitting of a new boiler, was completed in late May 2004, and the engine returned to public service on the thirtieth of that month as "Edward Thomas" in unlined green livery.
Livery
He is currently running in the standard Talyllyn Railway livery of dark green with black and yellow lining.
Trivia
A book named "Hugh Goes Sliding", written by Christopher Awdry, featured Sir Haydn and Edward Thomas working on the Corris Railway. It was based on a true life event, reminiscent of The Railway Series. It implies that before being purchased by the Talyllyn Railway, Edward Thomas was named "Kerr" after his designer Kerr Stuart. Kerr was also featured in a story for the Corris Railway's newsletter, known as the "Corris-Pondent" alongside Cora.
Gallery
Ad blocker interference detected!
Wikia is a free-to-use site that makes money from advertising. We have a modified experience for viewers using ad blockers

Wikia is not accessible if you've made further modifications. Remove the custom ad blocker rule(s) and the page will load as expected.