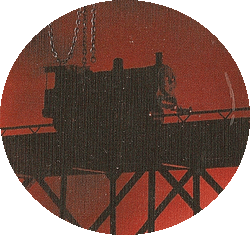 Edward's Ghost Engine
Class: CR 812 0-6-0
Designer: John F. McIntosh
Builder: St. Rollox Works
Configuration: 0-6-0
The Ghost Engine was referenced in a story Edward told the others one Halloween. Thomas later teased Percy, saying Percy thought it was real, but learnt his lesson after remaining behind at the Smelter's to take a special load and thinking that some chains touching his cab were ghostly fingers. He then believed that a whistle in the shed was the ghost's lost whistle, forcing him to race out of the Smelters, frightened.
Basis
The Ghost Engine is based on the Caledonian Railway "Mclntosh 812" 0-6-0s. Its model is one of Donald or Douglas' minus the tender and nameplates.
Appearances
The Ghost Engine also appeared in the sixth season song, Boo! Boo! Choo-Choo.
Gallery