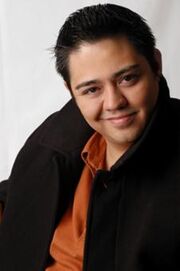 Eduardo "Lalo" Garza (Born January 10, 1976) is a Mexican voice actor who provided voices for Thomas and the Magic Railroad, he is better known for voicing Krillin in "Dragon Ball Z", Elmo from "Sesame Street", and Francis in "Malcolm in the Middle".
Voices
Trivia
He made a casting for Sasuke Uchiha in "Naruto" and Uryu Ishida in "Bleach", However, Víctor Ugarte also made casting for them and he got the roles for them.
He worked with Enzo Fortuny, and Elsa Covián in Drake & Josh.
He worked with Liliana Barba on the Mexican Spanish dub of "South Park".