"I grew up loving to watch Thomas and his pals getting caught up in unexpected and mischievous adventures."
―Eddie Redmayne referring to his role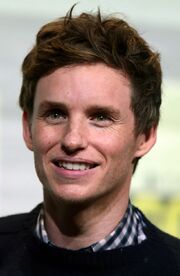 Edward John David "Eddie" Redmayne OBE (born on 6 January 1982 in London, England, UK) is an English actor, singer and model who received universal critical acclaim for his performance as Stephen Hawking in The Theory of Everything, for which he won the Academy Award for Best Actor. He was featured as a special guest actor for Thomas & Friends in Sodor's Legend of the Lost Treasure.
Voices
UK/US
Ryan (Sodor's Legend of the Lost Treasure only)
Filmography
Films

Like Minds (2006)
The Good Shepherd (2006)
Savage Grace (2007)
Elizabeth: The Golden Age (2007)
The Yellow Handkerchief (2008)
The Other Boleyn Girl (2008)
Powder Blue (2009)
Glorious 39 (2009)
Black Death (2010)
Hick (2011)
My Week with Marilyn (2011)
The Miraculous Year (2011)
Les Misérables (2012)
The Theory of Everything (2014)
Jupiter Ascending (2015)
Thomas & Friends: Sodor's Legend of the Lost Treasure (2015)
The Danish Girl (2015)
Fantastic Beasts and Where to Find Them (2016)
Early Man (2018)

Television

Animal Ark (1998)
Doctors (2003)
Elizabeth I (2005)
Tess of the D'Urbervilles (2008)
The Pillars of the Earth (2010)
Birdsong (2012)
Trivia
Gallery
Ad blocker interference detected!
Wikia is a free-to-use site that makes money from advertising. We have a modified experience for viewers using ad blockers

Wikia is not accessible if you've made further modifications. Remove the custom ad blocker rule(s) and the page will load as expected.