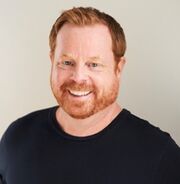 Edward "Eddie" Glen (born 1953) is a Canadian actor and voice actor who provided the voice of Thomas in Thomas and the Magic Railroad in the final script.
He is best known for voicing Squire Flicker from "Blazing Dragons", Wyatt Smith and Barthez from "Beyblade", Akira Tsukuba from "Odin-Starlight Mutiny", Roll Kran from "Dangaioh", Ryoma from "Power Stone", and Gordy Rhinehart from "Angela Anaconda". He is also known for narrating commercials for the Canadian television channel YTV.
Voices
Thomas (Thomas and the Magic Railroad; final cut)
Filmography
Film

Odin (1985)
Hyper Combat Unit Dangaioh (1987)
Patlabor: The Movie (1989)
Karasu tengu Kabuto: Ôgon no me no kimono (1992)
Gunnm (1993)
Patlabor 2: The Movie (1993)
The Prince of the Pauper (1996)
An Angel for Christmas (1996)
Thomas and the Magic Railroad (2000)
Digimon: The Movie (2000)
RoboRoach (2002-2003)
Emma's Wings: A Bella Sara Tale (2013)

TV

The Legend of the Hawaiian Slammers (1994)
Blazing Dragons (1998)
Flying Rhino Junior High (1999)
Mythic Warriors: Guardians of the Legend (1999)
Power Stone (1999)
First Comes Love (1999)
Twice in a Lifetime (1999)
Earth: Final Contact (2000)
Daydream Believers: The Monkees' Story (2000)
Undergrads (2001)
Angela Anaconda (2002)
Street Time (2003)
Beyblade (2002-2003)
The Firm (2012)

Video Games

Hype: The Time Quest (1999)
The Misadventures of Tron Bonne (1999)
Mega Man Legends 2 (2000)
Company of Heroes: Opposing Fronts (2007)
Trivia
Ad blocker interference detected!
Wikia is a free-to-use site that makes money from advertising. We have a modified experience for viewers using ad blockers

Wikia is not accessible if you've made further modifications. Remove the custom ad blocker rule(s) and the page will load as expected.