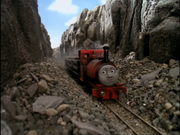 Echo Pass Ravine is a mountainous area of the Skarloey Railway near the Skarloey Railway Slate Quarry. Skarloey once got covered in snow here and was briefly chased by a boulder here as well.
It appeared in the fifth, ninth and eleventh seasons.
Gallery
"Welcome to the Steamworks, my friend!"

This article is a stub. You can help by expanding it.