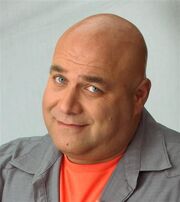 Dvir Benedek (Hebrew: דביר בנדק, born December 29th, 1969) is an Israeli actor and voice actor who provided voices in the Hebrew dub of Thomas and the Magic Railroad.
He has appeared in various theatre shows in Israel, but has also appeared in various films and television shows, including "HaMisrad", "Kalat Hayam", "Yomuledet", "Papadizzi", "D.F.1: The Lost Patrol", and "Eize Makom Nifla". He is also known for voicing Aslan from the "Chronicles of Narnia" films, Po from "Kung Fu Panda", Nigel from "The Wild", Buford from Disney's "The Princess and the Frog", Larousse from "Ratatouille", and Advisor Smith from "Monsters vs. Aliens".
Voices
Trivia
Mr. Conductor was his first known role as a voice actor.
He appeared alongside Togo Igawa in the 2009 Israeli film, "A Matter of Size".
Both he and Thomas Fritsch, who also dubbed Mr. Conductor, voiced Aslan from the "Chronicles of Narnia" films in their respective languages.
Ad blocker interference detected!
Wikia is a free-to-use site that makes money from advertising. We have a modified experience for viewers using ad blockers

Wikia is not accessible if you've made further modifications. Remove the custom ad blocker rule(s) and the page will load as expected.