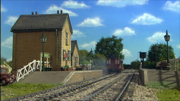 The
Duck Pond
is a large pond situated somewhere on the
Island of Sodor
, this pond is a home to some ducks.
In the twelfth season episode, Percy and the Bandstand, while Percy was talking Lady Hatt to Great Waterton, he passed the duck pond on his way, as this location was one of Lady Hatt's favourite locations on the Island of Sodor, she asked Percy to stop, when Percy stopped, she immediately got out of the coaches and went to look at the ducks swimming in the pond.
The duck pond appeared in the twelfth season. A similar pond, possibly the same one, later appeared in the twentieth season episode, Diesel and the Ducklings.
Gallery
"Welcome to the Steamworks, my friend!"

This article is a stub. You can help by expanding it.