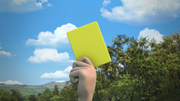 Dryaw FC is the place where football (soccer) games are held. The Pack were sent there to repair the park and clean up debris after a bad storm. It is located south of Toryreck and north of Dryaw. In the nineteenth season, it was located opposite of the station.
The Dryaw FC coach works here.
Moles once made hills on the field, and Miss Jenny sent Buster to flatten them.
It appeared in the Jack and the Sodor Construction Company episode, Thomas and the Moles and reappeared in the nineteenth season episode, Reds vs. Blues.
Trivia
In its first appearance, the track near the football field lacks a buffer stop. In real life, an engine could have come off the rails there.
Gallery