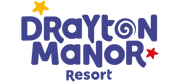 Drayton Manor is the home of Thomas Land, the first Thomas and Friends based theme park in Europe. It was opened in 2008.
In 2009, HiT Entertainment opened an exhibition with some original models from the television series because of the switch to CGI animation.
Discover Thomas and Friends exhibition
Engines
Vehicles
Horrid Lorries (faceless)
A dark red car
A green car
A blue tractor
A rusty tractor
Rolling stock
Humans
The Great Waterton butcher
Three workmen
Several holidaymakers
Two stationmasters
A farmer
Areas
Buildings
Great Waterton station
Great Waterton's clock tower
Great Waterton's tower
Great Waterton's water wheel
Ben's Books
Waterton Butchers
Train rides
A steam-outline narrow gauge railway runs from Knapford Station to Tidmouth Hault. It also includes Dryaw and Tidmouth Sheds, where stationary models of Edward, Henry, Gordon, Toby and Rosie are kept. Inside it is Harold's Heli-Tours. When Thomas Land was opened, the line was run by Thomas and Percy, using Annie and Clarabel and the red coaches. In 2009, Rosie was added to the line. There are also several sidings, one carrying a full-size, sleeping model of James.
Other rides
The other rides are listed below:
Trivia
In 2014, the park became a filming location for Nativity 3: Dude, Where's my Donkey? Percy with his face removed and Knapford Station made a cameo as well.
In 2015, the Discover Thomas & Friends exhibition layout was filmed for 70 Years of Friendship documentary.
Originally, 'Arry was to have been involved in Diesel's Locomotion Mayhem, but was instead replaced by Dennis.
According to the 2015 map of Drayton Manor, Diesel's Locomotion Mayhem is named Diesel's Locomotive Mayhem.
Rheneas is depicted as a saddle tank engine in the Blue Mountain Engines Ride.
Gallery
Logos
Discover Thomas and Friends Gallery
Rides Gallery