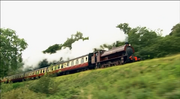 Segments
Trivia
In the segment "Evening" you can see a locomotive made up to look like Thomas in a shot of the yards.
Goofs
At the end of the original "Whistle" segment, the camera on top of the engine's roof gets knocked over by a tree branch. This goof was later edited out. 
"The End of the Line" was renamed "End of the Line" in the US, but Michael Brandon still says "The End of the Line".
During "Fireman", a camera crane and a cameraman are seen.
When the driver first uncouples the engine in "The End of the Line", the locomotive is facing away from the carriages, but in the next shot the locomotive is facing towards the carriages (its reflection is in the carriage window).
Videos
Ad blocker interference detected!
Wikia is a free-to-use site that makes money from advertising. We have a modified experience for viewers using ad blockers

Wikia is not accessible if you've made further modifications. Remove the custom ad blocker rule(s) and the page will load as expected.