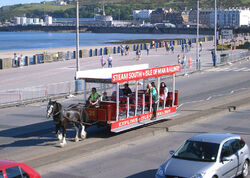 Douglas Bay Horse Tramway
Builder: Thomas Lightfoot
Built: 1876
The Douglas Bay Horse Tramway on the Isle of Man runs along the seafront promenade for approximately 1.6 miles (2.6 km), from the southern terminus at the Victoria Pier, adjacent to the Sea Terminal, to Derby Castle, the southern terminus of the Manx Electric Railway, where the workshops and sheds are located. It is a distinctive tourist attraction.
Bio
The tram engine was later seen in Hashire! The "Thomas the Tank Engine and Friends" Steam Locomotive is Alive!, where host Gaku Hamada is riding while learning about how the railway works.
Voices Actors
"Welcome to the Steamworks, my friend!"

This article is a stub. You can help by expanding it.
Ad blocker interference detected!
Wikia is a free-to-use site that makes money from advertising. We have a modified experience for viewers using ad blockers

Wikia is not accessible if you've made further modifications. Remove the custom ad blocker rule(s) and the page will load as expected.