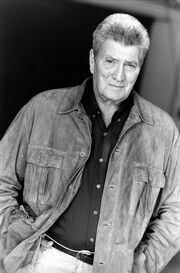 Doug Lennox (21 January 1938 - November 28, 2015) was a Canadian actor, writer and radio personality who appeared in various television shows and movies, such as "Honey, I Shrunk the Kids" TV series, "The New Avengers", "The Famous Jett Jackson", and "Police Academy 3". He is also known for appearing in the "X-Men" films as Albert A. Bartender. He is also best known as the author for the "Now You Know" series.
He died peacefully in his sleep on November 28, 2015 at the age of seventy-seven.
Roles
Trivia
He was originally cast as P.T. Boomer in Thomas and the Magic Railroad. However, the character was cut from the final film because test audiences found him too menacing, but he can still be seen in some trailers, and he made a few cameos in the film's final cut.
He and Shining Time Station actress, Erica Luttrell both had roles in "The Famous Jett Jackson".
He and Shining Time Station actors, Tom Jackson, Ardon Bess, David Hewlett and William Colgate all had roles in "The Campbells".
He, Colm Feore, William Hope, Kevin Frank and Lori Hallier all had roles in "Street Legal".
External links
Ad blocker interference detected!
Wikia is a free-to-use site that makes money from advertising. We have a modified experience for viewers using ad blockers

Wikia is not accessible if you've made further modifications. Remove the custom ad blocker rule(s) and the page will load as expected.