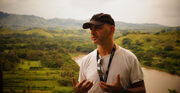 Dino Athanassiou was the animation director and character adaptor for the twelfth season of Thomas & Friends. He worked in conjunction with Nitrogen Studios.
Dino owns the animation service known as Stardust Pictures, and has worked for many studios such as DreamWorks, Walt Disney Studios, and Arc Productions.
He, Chiara Gioncardi, Jukka Voutilainen, Rob Silvestri, Alan Kennedy, Dave Peacock, John Hasler, Albert Cohen, Elina Iskoz, David Stoten, Hadar Shachaf Ma'ayan, Edson Matus, Jarosław Boberek and Ryan Quaglia all worked on "Gnomeo and Juliet".
He worked on "Spirit: Stallion of the Cimarron" with Ellery Van Dooyeweert.
External Links
Edit
"Welcome to the Steamworks, my friend!"

This article is a stub. You can help by expanding it.