"One day I was going up, and waited at a station for Godred, coming down, to pass me. As I waited, so it happened. One moment, he was on the track, the next, his Driver and Fireman jumped clear as he rolled over."
— Culdee explaining the fate of Godred to the Narrow Gauge Engines, Mountain Engines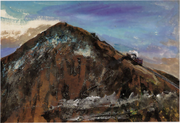 Devil's Back, in Sudric, Dreeym-y-Deighan, is a bleak, windy ridge on Culdee Fell traversed by the Culdee Fell Railway. It is the last passing loop before the summit. It was here Godred came off the rails and fell of the ravine.
If the winds become too strong on the mountain, passenger trains stop here rather than continuing to the summit. Rescue and supply trains, however, must get through.
Gallery
Ad blocker interference detected!
Wikia is a free-to-use site that makes money from advertising. We have a modified experience for viewers using ad blockers

Wikia is not accessible if you've made further modifications. Remove the custom ad blocker rule(s) and the page will load as expected.