Ad blocker interference detected!
Wikia is a free-to-use site that makes money from advertising. We have a modified experience for viewers using ad blockers

Wikia is not accessible if you've made further modifications. Remove the custom ad blocker rule(s) and the page will load as expected.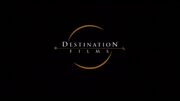 Destination Films is an independent film division owned by Sony Pictures Entertainment and Columbia Tri-Star. It was founded by Brent Baum, John Bertolli and Steve Stabler in 1998. Barry London is a chairman and President of Marketing and Distribution.
They distributed and helped produce Thomas and the Magic Railroad.
Films
Eye of the Beholder (1999)
Thomas and the Magic Railroad (2000; also production company)
Cowboy Bebop: The Movie (2002)
MirrorMask (2005)
Facing The Giants (2006; also production company)
The Perfect Holiday (2007)
Blood: The Last Vampire (2009)
Black Dynamite (2009)
Welcome to the Rileys (2010)
Gallery