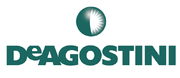 De Agostini has published many different magazine series. In 2004, the company made a Thomas and Friends magazine series. Each issue focused on a certain place and had activities related to it. It would also come with a plastic character or destination and a piece of track with some activities related to that character. Once all issues were collected, the track would form a layout.
Engines
Rolling Stock
Other Characters
Destinations
Subscription Items
Trivia
External links
Ad blocker interference detected!
Wikia is a free-to-use site that makes money from advertising. We have a modified experience for viewers using ad blockers

Wikia is not accessible if you've made further modifications. Remove the custom ad blocker rule(s) and the page will load as expected.