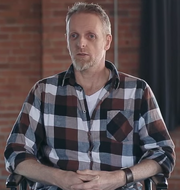 David Stoten (born in Luton, Bedfordshire) is a director for Thomas & Friends at Jam Filled Entertainment working on specials only. He also worked at the company when it was Arc Productions for the series where he was one of the storyboard artists for the eighteenth season and Tale of the Brave, and the director of Sodor's Legend of the Lost Treasure and The Great Race as well as the eighteenth and nineteenth seasons directing the eighteenth season with Don Spencer and nineteenth season with Don Spencer and Dianna Basso.
David was the Creative Development Lead at Arc Productions and has worked on numerous productions including "Gnomeo and Juliet" and "Spitting Image". He held that position from April 2011 until August 2016 when Arc Productions closed down after filing for bankruptcy. Before joining Arc Productions, he worked on the British TV series "Charlie and Lola."
Director
Seasons
Specials
Songs
Trivia
He, Adam Beck, Chiara Gioncardi, Jukka Voutilainen, Alan Kennedy, Rob Silvestri, Dave Peacock, John Hasler, Albert Cohen, Elina Iskoz, Dino Athanassiou, Hadar Shachaf Ma'ayan, Edson Matus, Jarosław Boberek, Ryan Quaglia and Jesse Lickman have all worked on "Gnomeo and Juliet".
He, Dave Ingham and Anna Starkey have all worked on "Charlie and Lola".
Gallery
External Link
Ad blocker interference detected!
Wikia is a free-to-use site that makes money from advertising. We have a modified experience for viewers using ad blockers

Wikia is not accessible if you've made further modifications. Remove the custom ad blocker rule(s) and the page will load as expected.