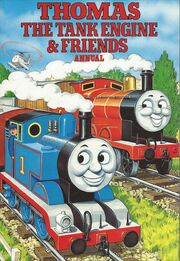 David Palmer illustrated many of the Thomas annuals from 1985 - 1996, including the stories, games, colouring pages, and the square guide drawings. He had help from Jo Lawrence in illustrating the first annual and he did not illustrate the 1993 edition.
Gallery
Ad blocker interference detected!
Wikia is a free-to-use site that makes money from advertising. We have a modified experience for viewers using ad blockers

Wikia is not accessible if you've made further modifications. Remove the custom ad blocker rule(s) and the page will load as expected.