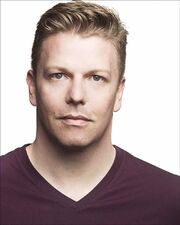 David Menkin (born May 10th, 1977 in Norway) is a Norwegian-born American actor who provides voices for the US narration of Thomas & Friends.
He is known for appearing and voiceover in various films and games, such as "Wit", "Arthur Christmas" and "Kinect Sports". He is perhaps best known for voicing Preston Marlowe and Captain Joseph Brady from the "Battlefield" series. He was the voice for Scoop in the US version of "Bob the Builder: Ready! Steady! Build!". He provides the vocal performances of Virgil and Gordon Tracy in the series "Thunderbirds are Go!".
He can speak fluent Norwegian and Swedish.
Voices
US
Songs
Filmography
Films

Wit (2001)
Octane (2003)
Bob the Builder: The Legend of the Golden Hammer (2010)
Bob the Builder: Big Dino Dig (2011)
Arthur Christmas (2011)
Zero Dark Thirty (2012)
The Man from U.N.C.L.E. (2015)
Survivor (2015)
Molly Moon: The Incredible Hypnotist (2015)
A Hologram for the King (2015)

Television

Bob the Builder: Ready, Steady, Build! (2010-2012)
Strike Back (2013)
Thomas & Friends (2013-present)
Drifters (2014)
The Top Ten Show (2014-2015)
Thunderbirds Are Go! (2015-present)

Games

Alias (2004)
EyeToy: Kinetic (2005)
Battlefield: Bad Company (2008)
Battlefield: Bad Company 2 (2010)
Kinect Sports (2010)
Crysis 2 (2011)
Battlefield 3 (2011)
Syndicate (2012)
Killzone: Shadow Fall (2013)
Alien: Isolation (2014)
Trivia
Gallery
External links