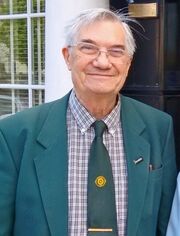 David Maidment was the railway consultant for the fifth season of Thomas the Tank Engine and Friends. He also contributied to writing nine episodes for the same season. He was often the one who found the basis for many episodes in that season. When Britt Allcroft sold the rights to HiT Entertainment, Maidment offered to continue his position, but received no reply.
He is also the founder of Railway Children, whom his salary went to. As his work as railway director was a way of Gullane donating to the charity without directly giving them the money, due to them not wanting others to request donations.
Episodes Written
All episodes were written co-written with Britt Allcroft and David Mitton.
External Link
Ad blocker interference detected!
Wikia is a free-to-use site that makes money from advertising. We have a modified experience for viewers using ad blockers

Wikia is not accessible if you've made further modifications. Remove the custom ad blocker rule(s) and the page will load as expected.