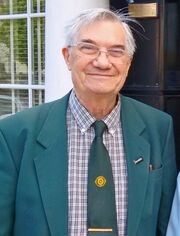 David Maidment OBE (born in 1938, Walton-on-Thames, Surrey, England) was the railway consultant for the fifth season of Thomas the Tank Engine and Friends. He also contributied to writing nine episodes for the same season. He was often the one who found the basis for many episodes in that season. When Britt Allcroft sold the rights to HiT Entertainment, Maidment offered to continue his position, but received no reply.
He worked in various positions on British Railways between 1960 and 1994, and was Head of Safety Policy for Railtrack between 1994-1996. His positions for BR include Chief Operating Manager (Controller) for the London Midland Region between 1982-86. He was a Principal Consultant for International Risk Management Services betwern 1996-2001 and undertook major safety reviews of railways across the world, as well as the UK. He recived an OBE for services to the railway industry in 1996 and a BR Class 60 was named in his honour in 2013. He written various books and articles on railway safety, railway nostalgia and street children.
He is also the founder of Railway Children, whom his salary went to. As his work as railway director was a way of Gullane donating to the charity without directly giving them the money, due to them not wanting others to request donations.
Episodes Written
All episodes were written co-written with Britt Allcroft and David Mitton.
External Links
"Welcome to the Steamworks, my friend!"

This article is a stub. You can help by expanding it.