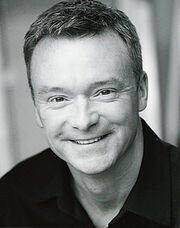 David Holt (born in Birmingham, England, March 13th, 1965) is a British actor, writer, and voice actor who provided the narration for the Hero of the Rails video game and several other Thomas & Friends products.
Other credits include "Bob the Builder (2015 remake)", "Oakie Doke", "Muffin the Mule (2005 remake)", "Engie Benjy", "Percy the Park Keeper", "Busy Buses", "Watership Down", "Rupert Bear: Follow the Magic...", "Gerry Anderson's Lavender Castle", "The Magic Roundabout (2010 remake)", "Little Monsters", and many more.
Filmography
Trivia
Both he and Shōto Kashii voiced Yellow Monkey from the "Ape Escape" series in their respective languages.
Both he and Keith Wickham voiced characters in "Ape Escape 3".
Both he and Rob Rackstraw have voiced in "Zit: The Video".
He and Teresa Gallagher voiced characters in "Alphablocks".
He, along with Kerry Shale and Jules de Jongh, voiced characters in "Puppeteer".
He, along with Willie Rushton and TUGS voice actors John Baddeley and Timothy Bateson, voiced characters from "Shakespeare: The Animated Tales".
He, along with John Hasler and Rob Rackstraw, voiced characters in "The Legends of Treasure Island".
He voices the character Shere Khan in the 2012 "The Jungle Book" series. Teresa Gallagher and Nigel Pilkington also voice characters in the show. Yoram Yosefsberg voiced his character, Shere Khan, in the Hebrew version.
He and Rob Rackstraw have also voiced characters in "Metalheads".
He, alongside Ben Small and Susan Roman, voiced characters in "Harry and His Bucket Full of Dinosaurs".
He, John Hurt, and Rob Rackstraw had roles in "The Watership Down TV Series".
He, Steven Kynman, Lucy Montgomery, Rasmus Hardiker, and Salty's Lighthouse voice actor Ian James Corlett voice characters in "Bob the Builder". Rob Rackstraw, Rupert Degas, Colin McFarlane, and David Menkin previously voiced characters in the show.