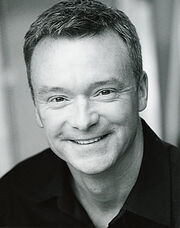 David Holt (born in Birmingham, England, March 13th, 1965) is a British actor, writer, and voice actor who provided the narration for the Hero of the Rails video game and several other Thomas & Friends products.
Other credits include "Bob the Builder (2015 remake)", "Oakie Doke", "Muffin the Mule (2005 remake)", "Engie Benjy", "Percy the Park Keeper", "Busy Buses", "Watership Down", "Rupert Bear: Follow the Magic...", "Gerry Anderson's Lavender Castle", "The Magic Roundabout (2010 remake)", "Little Monsters", and many more.
Trivia
Ad blocker interference detected!
Wikia is a free-to-use site that makes money from advertising. We have a modified experience for viewers using ad blockers

Wikia is not accessible if you've made further modifications. Remove the custom ad blocker rule(s) and the page will load as expected.