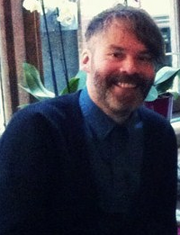 Davey Moore (born 28 January 1972) is an English scriptwriter and development executive. He is an episode writer for Thomas & Friends, he has worked on the series since 2011.
He has written a total of thirty-eight episodes for Thomas & Friends; six for the seventeenth season, seven for the eighteenth season, five for the nineteenth season, six for the twentieth season, five for the twenty-first and nine for the twenty-second season. He also wrote the Thomas Around the World segments.
Other credits include "Chuggington", "Postman Pat", "Dennis and Gnasher", and many more.
Episodes Written
Trivia
External Links