Ad blocker interference detected!
Wikia is a free-to-use site that makes money from advertising. We have a modified experience for viewers using ad blockers

Wikia is not accessible if you've made further modifications. Remove the custom ad blocker rule(s) and the page will load as expected.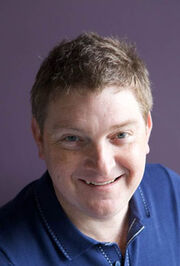 Dave Ingham is an award-winning writer and animator who wrote for Thomas and Friends. He has also worked on other shows, such as "Fireman Sam", "Tracey Beaker Returns", "Horrid Henry", "Charlie and Lola", "Bob the Builder", "Shaun the Sheep" and "The Octonauts". He recently became part of the judging panel for ChildLine's Create and Make competition. He is now currently the head writer for the new "Clangers".
Episodes
Trivia
He, Nick Ostler, Mark Huckerby, Davey Moore, Rob Rackstraw, Keith Wickham and Teresa Gallagher all worked on "The Octonaunts".
He, Dave Peacock, Paul Dawson, Michael Carrington, Susan Roman, Keith Wickham and Rob Rackstraw all worked on "The Koala Brothers".
External Link