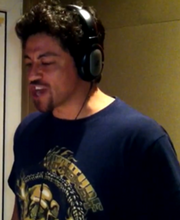 Daniel del Roble is a Mexican voice actor who provides voices in the Latin American narration of Thomas & Friends.
He is best known for voicing Benson in "Regular Show" since Season 5 and Master Xandred in "Power Rangers: Samurai".
Voices
Trivia
He, Arturo Cataño, Krzysztof Szczerbiński, Miłogost Reczek, Waldemar Barwiński, Moisés Iván Mora, Joanna Pach-Żbikowska, Piotr Bajtlik, Dor Srugo, Przemysław Stippa, Ulises Maynardo Zavala, Gilan Shachaf and Erik Skøld have all worked on "Regular Show".
"Welcome to the Steamworks, my friend!"

This article is a stub. You can help by expanding it.