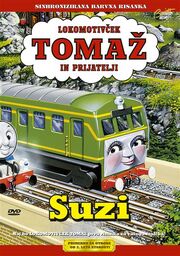 Daisy is a Slovenian DVD containing second season episodes narrated by Vladimir Jurc.
Description
What happened to Suzi? What kind of stupidity is doing Poldi that he had an accident? Why stray on the wrong path? Who and what promise he gave Harry? Another accident? A lot is happening ... Will find a solution? Everything and more you can see on this DVD.
Ad blocker interference detected!
Wikia is a free-to-use site that makes money from advertising. We have a modified experience for viewers using ad blockers

Wikia is not accessible if you've made further modifications. Remove the custom ad blocker rule(s) and the page will load as expected.