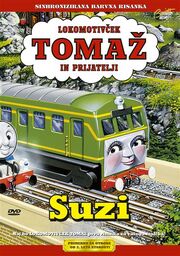 Daisy is a Slovenian DVD containing second season episodes narrated by Vladimir Jurc.
Description
What happened to Suzi? What kind of stupidity is doing Poldi that he had an accident? Why stray on the wrong path? Who and what promise he gave Harry? Another accident? A lot is happening ... Will find a solution? Everything and more you can see on this DVD.
"Welcome to the Steamworks, my friend!"

This article is a stub. You can help by expanding it.