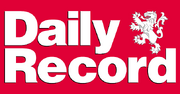 The Daily Record is a Scottish tabloid newspaper based in Glasgow. It was founded in 1895 and became one of the biggest newspapers since then, even outselling their rival the "Scottish Sun".
They released several promotional DVD's for HiT Entertainment since 2009.
DVDs
Gallery
External links
Ad blocker interference detected!
Wikia is a free-to-use site that makes money from advertising. We have a modified experience for viewers using ad blockers

Wikia is not accessible if you've made further modifications. Remove the custom ad blocker rule(s) and the page will load as expected.