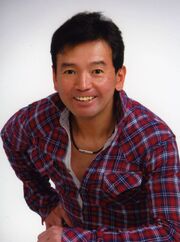 Daiki Nakamura (born on December 25th, 1962) is a Japanese voice actor who provides voices for Thomas & Friends.
He is most famous for voicing Leonardo from the original "Teenage Mutant Ninja Turtles", Matsutakeman from "Soreike! Anpanman", Rhinox from "Beast Wars", Mixmaster from "Transformers Animated", Inoichi Yamanaka from "Naruto" and Chief Wiggum from "The Simpsons".
Voices
Trivia
Ad blocker interference detected!
Wikia is a free-to-use site that makes money from advertising. We have a modified experience for viewers using ad blockers

Wikia is not accessible if you've made further modifications. Remove the custom ad blocker rule(s) and the page will load as expected.