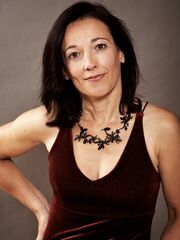 Dagmar Dreke (born 1958 in Hamburg) is a German actress and voice actress who provides voices for the German dub of Thomas & Friends.
She is known in Germany for doing theatre work and also for doing voiceovers for audiobooks, radio plays, commercials, and radio spots. As a voice actress, she is known for voicing Dana Tan from "Batman Beyond", Mom Tiger from "Daniel Tiger's Neighbourhood", Frankie Stein from "Monster High", and Anita from "D.Gray-Man". Other voice acting credits include "Sesame Street", "The Wild Thornberrys", and "As Told By Ginger".
Voices
Trivia
Both she and Joanna Pach-Żbikowska voiced Frankie Stein from "Monster High" in their respective languages.
She, Albert Cohen, Eduardo Garza, Marjolein Algera, Fabian Harloff, Robert Missler, Stefan Knothe, Nadine Schreier, Janusz Zadura, Denise Cassar, Mark Skillicorn, Petri Hanttu, Angela Quast, Dov Reiser, Louise Raeder, Fred Meijer, Ricardo Mendoza, Beata Wyrąbkiewicz, Gadi Levy, Manfred Steffen, Alec Baldwin and Alejandro Mayén have all worked on "Sesame Street".
External Link