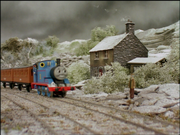 Cyril's Cottage also known as The Fogman's House is a cottage where Cyril the Fogman lives. It is located in Misty Valley on the Misty Valley Branch Line between Callan and Castle Loch.
It only appeared in the sixth season episode, The Fogman.
Gallery
"Welcome to the Steamworks, my friend!"

This article is a stub. You can help by expanding it.