"Stupid things! They're all scared of coming with me!"
— Lord Harry, Danger Points, Mountain Engines
Culdee Fell Railway Coaches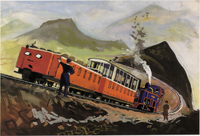 The Culdee Fell Railway owns at least eight coaches, one for each of their engines, and one open-topped coach. For safety reasons, only one coach at a time is taken up the mountain. However, on one occasion, Culdee pushed two coaches during his trial run.
One day, a coach was frightened by Lord Harry, who was acting reckless. However, he derailed at the Summit, blocking Wilfred from going down and leading to his comeuppance.
Trivia
So far, Catherine is the only known coach to have a name.
In the magazines, Culdee has been portrayed pulling coaches instead of pushing them. Some magazines also depict them as branch line coaches.
Gallery