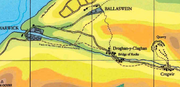 The
Cronk and Harwick Railway
was a railway that ran from
Harwick
 to a quarry near
Cregwir
. It also had a branch to
Ballaswein
. Very little is known about the railway, but it appears on some
Island of Sodor
maps.
History
On some maps of Sodor a railway line appears, this is the only remainder of early railway proposals to build a railway from Harwick to Cronk via Peel Godred. The line, however, had only reached the village of Cregwir before funds ran out. The line was used solely as a horse-drawn freight line between Cregwir's quarries and the harbour at Harwick.
Ad blocker interference detected!
Wikia is a free-to-use site that makes money from advertising. We have a modified experience for viewers using ad blockers

Wikia is not accessible if you've made further modifications. Remove the custom ad blocker rule(s) and the page will load as expected.