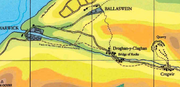 The Cronk and Harwick Railway was a railway that ran from Harwick to a quarry near Cregwir. It also had a branch to Ballaswein. Little is known about the railway, but it appears on some Island of Sodor maps.
History
After the final supression of the "Trade" in the mid 19th century, great poverty came ti the Ooyre Valley, but by the 1850s it was hoped that a railway -The Cronk & Harwick - would provide honest work, and help to solve the problem. A fine new pier was built with stone quarried in the valley, and some 12 miles of track laid as far as Cregwir before the money ran out. The line was horse worked, and though this and other quarries remained in production till the 1950's, the railway had long since worn out. It was shown as still in being, but abandoned, on several map; but it had actually been pulled up for scrap during the Second World War.
Ad blocker interference detected!
Wikia is a free-to-use site that makes money from advertising. We have a modified experience for viewers using ad blockers

Wikia is not accessible if you've made further modifications. Remove the custom ad blocker rule(s) and the page will load as expected.