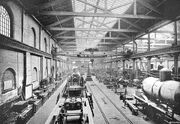 Crewe is the location of Crewe Locomotive Works, a locomotive works that was once owned by the LMS. It was built in 1840 by the Grand Junction Railway after the Industrial Revolution. It was here that Henry was rebuilt after his accident in Henry the Green Engine.
Crewe Locomotive Works is now owned by media mogul Pete Waterman, and is now named LNWR Heritage.
Appearances
y==Trivia==
Henry mentioned that he met Bahamas at Crewe during his overhaul.
One of the designers that used to work at Crewe was William Stanier, who was best known for designing classes to the Stanier Black 5's (Henry's rebuild) and the Duchess of Hamilton.
In the Adventure Series (Sega Genesis) video game, Crewe its wrongly depicted as being located on Sodor.
"Welcome to the Steamworks, my friend!"

This article is a stub. You can help by expanding it.
Ad blocker interference detected!
Wikia is a free-to-use site that makes money from advertising. We have a modified experience for viewers using ad blockers

Wikia is not accessible if you've made further modifications. Remove the custom ad blocker rule(s) and the page will load as expected.