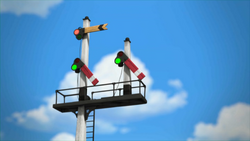 Connor's Coaches
Connor has five coaches that belong to the Other Railway. They are used for delivering passengers from the Mainland to Sodor.
The Slip Coaches were once coupled behind his coaches in order to carry more passengers on his last train before Christmas.
Livery
They are painted the same colour as Connor; teal with bright blue and yellow lining.
Appearances
Specials:
Merchandise
Gallery
Merchandise Gallery