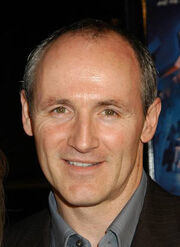 Colm Feore (born August 22nd, 1958 in Boston, Massachusetts, USA) is an Irish-American actor. He is well-known for his roles in the movies "Paycheck", "The Chronicles of Riddick", and "Changeling", and the television series "24" as well as the re-imagined "Battlestar Galactica". He has also starred in "Thor" and "The Amazing Spider-Man 2".
Voices
Major awards and nominations
Won - Screen Actors Guild Award for Best Cast in a Motion Picture, 2002, for "Chicago" (shared with Christine Baranski, Ekaterina Chtchelkanova, Taye Diggs, Denise Faye, Richard Gere, Deidre Goodwin, Mya, Lucy Liu, Queen Latifah, Susan Misner, John C. Reilly, Dominic West, Renée Zellweger and Catherine Zeta-Jones)
Trivia
Gallery
External links
Ad blocker interference detected!
Wikia is a free-to-use site that makes money from advertising. We have a modified experience for viewers using ad blockers

Wikia is not accessible if you've made further modifications. Remove the custom ad blocker rule(s) and the page will load as expected.