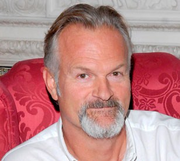 Clive Mantle (born June 3rd, 1957 in Barnet) is an English actor who joined the voice cast in Tale of the Brave. He has made numerous appearances in British television series including "Holby City", "Casualty", "One Foot in the Grave", "The Vicar of Dibley", "White Van Man", "Sherlock", "Game of Thrones", and many others.
Voices
UK/US
Filmography
Film

The Orchard End Murder (1981)
Party Party (1983)
Foreign Body (1986)
Superman IV: The Quest for Peace (1987)
Without a Clue (1988)
Mack the Knife (1989)
White Hunter Black Heart (1990)
The Darkest Light (1999)
Upstaged (2005)
Morris: A Life with Bells On (2009)
The More You Ignore Me (2017)

TV

Jane (1982)
Minder (1982-1983)
Lenny Henry Tonite (1986)
Screen Two (1986)
Robin of Sherwood (1984-1986)
Dempsey and Makepeace (1986)
Hello Mum (1987)
Scoop (1987)
The Nihilist's Double Vision (1987)
The Play On One (1988)
Wyatt's Watchdogs (1988)
Smith & Jones (1987-1988)
The Return of Shelley (1989)
Chelmsford 123 (1990)
One Foot In The Grave (1990)
Spymaker: The Secret Life of Ian Fleming (1990)
Medics (1990)
Bottom (1991)
Boon (1991)
Drop the Dead Donkey (1991)
WYSIWYG (1992)
Liquid Television (1992)
Framed (1992)
Jo Brand Through the Cakehole (1994)
The Imaginatively Titled Punt & Dennis Show (1995)
Bloomin' Marvellous (1997)
The Vicar of Dibley (1998-1999)
Holby City (1999-2001)
Heartbeat (2002)
Second Nature (2003)
Fortysomething (2003)
The Afternoon Play (2004)
Doctors (2005)
The Robinsons (2005)
The Poseidon Adventure (2005)
After Thomas (2006)
The Invisibles (2008)
Into the Storm (2009)
Game of Thrones (2011)
Sherlock (2012)
White Van Man (2011-2012)
Shameless (2013)
Birds of a Feather (2014)
Thomas & Friends (2014)
Mount Pleasant (2015)
Jekyll & Hyde (2015)
Casualty (1998-2016)
Damned (2016)
Jack the Ripper: Reality and Myth (2016)
Trivia
Ad blocker interference detected!
Wikia is a free-to-use site that makes money from advertising. We have a modified experience for viewers using ad blockers

Wikia is not accessible if you've made further modifications. Remove the custom ad blocker rule(s) and the page will load as expected.