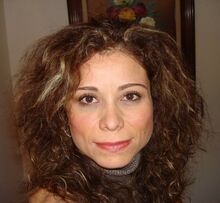 Claudia Marisol Motta Zepeda (born May 31st, 1971) is a mexican voice actress who provides voices in the Latin American dub of Thomas & Friends.
She is better known for voicing Applejack in "My Little Pony: Friendship Is Magic", Bart Simpson in "The Simpsons", and Lila Sawyer in "Hey Arnold!".
Voices
Trivia
She, Analiz Sánchez, Mikołaj Klimek, Héctor Moreno, Enrique Cervantes, Susana Moreno, Michał Podsiadło, Javier Olguín, Simen Sand, Klaudiusz Kaufmann, Justyna Bojczuk, Anna Gajewska, Ricardo Silva, Carlos Hernández, Ewa Serwa, Loretta Santini, Irina Índigo, Zbigniew Konopka, Isabel Romo, Raúl Solo, Zuzanna Galia, Kim Seung-jun, Grzegorz Kwiecień, Jacek Król, Benedikte Kruse, Eduardo Fonseca, Annie Rojas, Sergio Morel, Elsa Covián, Julia Kołakowska-Bytner, Susa Saukko, Kenta Miyake, Joanna Pach-Żbikowska, Moisés Iván Mora, Mia Kadosh, Masashi Ebara, Igor Cruz, Norma Iturbe, Petri Hanttu, Hiroshi Iwasaki, Anna Apostolakis, Tiril Heide-Steen, Przemysław Stippa, Markus Bäckman, Leszek Zduń, Janusz Wituch, Talya Barkay, Edson Matus, Paweł Szczesny, Gerald Schaale, Leyla Rangel, Piotr Bajtlik and Tesshō Genda have all starred in "My Little Pony: Friendship is Magic".
"Welcome to the Steamworks, my friend!"

This article is a stub. You can help by expanding it.