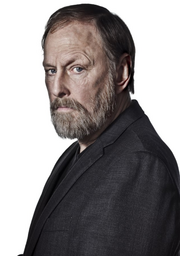 Claes Ivar Ljungmark (born on March 14th, 1954) is a Swedish actor who has narrated Thomas & Friends since the eighth season.
He is best known for performing in theatre business in his home country, such as William Shakespeare's "King John" at the Uppsala City Theatre in 2000. He is also known for appearing in television shows, such as "Andra Avenyn", "Vägg i vägg", and "Rosenbaum". He is also known for voicing Denzel Crocker from "The Fairly OddParents", Bartemius Crouch Sr. from "Harry Potter and the Goblet of Fire", Kowalski from the "Madagascar" series and Iroh from "Avatar: The Last Airbender".
Trivia
Ad blocker interference detected!
Wikia is a free-to-use site that makes money from advertising. We have a modified experience for viewers using ad blockers

Wikia is not accessible if you've made further modifications. Remove the custom ad blocker rule(s) and the page will load as expected.