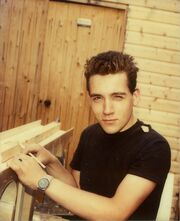 Christopher Noulton (born on 6 May 1961) was one of the model makers for the first two seasons of Thomas the Tank Engine and Friends.
Before working as a model maker for Thomas, Christopher designed and made several props for animated television commercials like "KC Nuts" and "Prize Guy Yoghuts". In 1982, he and David Mitton worked together on making the advert of "Ever-Ready Battery".
During the production for the first season of Thomas, Christopher made several models like the schoolboy on a bicycle (which was seen during the opening credits), drivers, guards, Jeremiah Jobling, and Sir Topham Hatt, as well as Maron station, Lower Suddery, Henry's Tunnel, Tidmouth Sheds, and The Viaduct.
For the second season, Christopher refurbished the main characters.
After working on Thomas, Christopher became an established artist as well as having written several storylines for "Little Red". He plans to approach a publisher in the near future to get them published.
Gallery
External Link