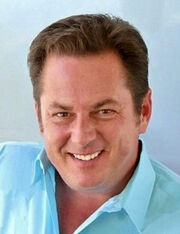 Christopher Keenan is the Senior Vice President of Production, Vice President of Global content and current "executive in charge of production" for HiT Entertainment, taking over from Michael Carrington in 2014. He is an "executive producer" for Thomas & Friends. He worked on the nineteenth season and Sodor's Legend of the Lost Treasure alongside Edward Catchpole. He was also the executive producer for The Great Race, the twentieth season and Journey Beyond Sodor.
He is also the Senior Vice President of Content Development and Production for Mattel Creations.
He has previously worked for the animation division of Warner Bros. where he created "Kids' WB!". While at Warner Bros. he worked on the "Scooby-Doo!" franchise, in which he worked on ten movies and two television shows. He has also worked for Steven Spielberg's Amblin Entertainment as a story editor.
Trivia
He and Jim Cummings both worked on "Tiny Toon Adventures", "Animaniacs", "Pinky and the Brain", "Freakazoid!" and "Histeria!".
External Link
Ad blocker interference detected!
Wikia is a free-to-use site that makes money from advertising. We have a modified experience for viewers using ad blockers

Wikia is not accessible if you've made further modifications. Remove the custom ad blocker rule(s) and the page will load as expected.