Ad blocker interference detected!
Wikia is a free-to-use site that makes money from advertising. We have a modified experience for viewers using ad blockers

Wikia is not accessible if you've made further modifications. Remove the custom ad blocker rule(s) and the page will load as expected.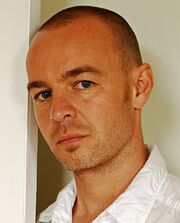 Christian Stark (born on March 9th, 1968) is a German voice actor and actor, who has also worked as dialogue writer and dubbing director. He provides voices in the German dub of Thomas & Friends.
He is most famous for voicing Kankuro from "Naruto", Dick Grayson from "Batman: The Animated Series", and Terry McGinnis from "Batman: Beyond".
Voices
Songs
Trivia
He, Kaihiamal Martínez and Tokuyoshi Kawashima voiced Terry McGinnis from "Batman: Beyond" in their respective languages.
He worked alongside Henning Nöhren, Lennardt Krüger, Christian Rudolf, Tobias Schmidt, Fabian Harloff, Martin May, Robert Kotulla, Konstantin Graudus, Merete Brettschneider, Tim Kreuer, Oliver Böttcher, Robert Missler, Patrick Bach, Jürgen Holdorf, Jan-David Rönfeldt, Joshy Peters, Sascha Draeger, Michael Bideller, Joey Cordevin, Christos Topoulos, Volker Hanisch, Nils Rieke, Peter Weis, Rainer Schmitt, Jens Wendland, and Jesse Grimm on "Naruto".
He, Holger Mahlich, Thomas Fritsch, Dirk Bach, Patrick Bach, Robin Brosch, Sascha Draeger, Konstantin Graudus, Eberhard Haar, Fabian Harloff, Lutz Herkenrath, Till Huster, Henry König, Helmut Krauss, Martin May, Tetje Mierendorf, Robert Missler, Sky du Mont, Renate Pichler, Christian Rudolf, Tobias Schmidt, Rainer Schmitt, Achim Schülke, Bernd Stephan, Manfred Steffen, Marion von Stengel, Peter Weis and Santiago Ziesmer all had roles in "The Three Investigators".