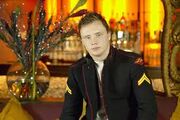 Christopher "Chris" Madin (born on 13 August 1980 in London, England, UK) is an English singer-songwriter. He performed the song Thomas, You're the Leader.
His family is from Doncaster, South Yorkshire.[1]
External Links
"Welcome to the Steamworks, my friend!"

This article is a stub. You can help by expanding it.