This article is about Choro-Q. You may be looking for Puka-Q.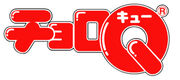 Choro-Q (Japanese: チョロQ) is a series of Japanese 3-4 cm long toy cars with pullback motors, made by Takara. In 2002 they released a range of Thomas the Tank Engine toys.
Characters
Rolling Stock
Value Packs
Thomas with Annie and Clarabel
James with Red Express Coaches
Henry with log trucks
Gordon with Green Express Coaches
Percy with Coal trucks
Edward with Blue Coaches
Toby with Stone trucks
Collectables
Ad blocker interference detected!
Wikia is a free-to-use site that makes money from advertising. We have a modified experience for viewers using ad blockers

Wikia is not accessible if you've made further modifications. Remove the custom ad blocker rule(s) and the page will load as expected.