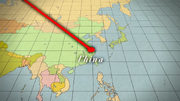 China is the largest country in the continent of Asia.
Thomas visited the country a few times in Really Useful Around the World. During his first visit, he had to deliver some bamboo, which he saw it was very important. Thomas later discovered that the bamboo was for the panda bears to eat, and thought it was a waste as he saw it used for other things, like bicycles and furniture. But the person who needed it says that the bears like eating bamboo as their diet. So Thomas felt lucky to help.
He later took some passengers one evening, when he saw some villagers hanging lanterns outside their houses, and thought it looked magical. Later that night, Thomas met Yen and asked her why is everyone hanging lanterns. Yen told Thomas that everyone is celebrating the New Year, though Thomas was confused as he already celebrated it on Sodor. She told Thomas that China celebrates it at a different time.
Engines
Appearances
It will appear in the twenty-second season.
Specials:
Trivia
Gallery
Ad blocker interference detected!
Wikia is a free-to-use site that makes money from advertising. We have a modified experience for viewers using ad blockers

Wikia is not accessible if you've made further modifications. Remove the custom ad blocker rule(s) and the page will load as expected.