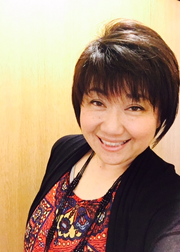 Chie Kōjiro (神代知衣, born October 17th, 1960) is a Japanese voice actress who provides voices in the Japanese narration of Thomas and Friends.
She is most famous for voicing Theodore Seville from "Alvin and the Chipmunks", Elmyra Duff from "Tiny Toons Adventures", Toukichi Mikuni from "Bakusou Kyoudai Let's & Go", Gumogumo from "Sgt. Frog", Honey from "Bug tte Honey" (Honeybee in Toycomland), Chana from "Fighting Spirt",  Spiral Panta from "Soreike! Anpanman", Darla Dimple from "Cats Don't Dance", Annamarie Bourget from "Mobile Suit Gundam F91", Angelica Pickles from the "Rugrats" films, Marian Luveille from "Saber Rider and the Star Sheriffs", Calley from "Chuggington", Falcomon from "Digimon", and Lisa Simpson from "The Simpsons".
Voices
Songs
Trivia
Gallery
External links
Ad blocker interference detected!
Wikia is a free-to-use site that makes money from advertising. We have a modified experience for viewers using ad blockers

Wikia is not accessible if you've made further modifications. Remove the custom ad blocker rule(s) and the page will load as expected.