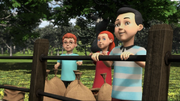 The Chestnut Orchard is an orchard located between Kellsthorpe Road and Crovan's Gate on the Main Line.
Children often visit there to collect chestnuts. Thomas stopped there once, and the children let him use their chestnuts for the piglets. Another time, Thomas also stopped here with Lowham Hatt so he could play with the children.
It appeared between the thirteenth and sixteenth seasons.
Appearances
Gallery
Ad blocker interference detected!
Wikia is a free-to-use site that makes money from advertising. We have a modified experience for viewers using ad blockers

Wikia is not accessible if you've made further modifications. Remove the custom ad blocker rule(s) and the page will load as expected.