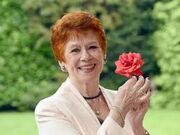 Hedwig Charlotte "Lotti" Krekel (born on 23rd August 1941 in Roetgen) is a German voice actress and singer who provided voices for the German Audio Books of Thomas & Friends.
Voices
Trivia
When she voiced Elizabeth, she was credited as "Charlotte Hedwig", but when she voiced the Duchess of Boxford, she was credited as "Lotti Krekel".
She, Achim Schülke, Tobias Diakow, Achim Buch, Benjamin Morik, Martin May, Henning Nöhren, Marek Erhardt, Judy Winter, Matthias Klimsa, Michael Griem, Rainer Schmitt, Holger Mahlich, Werner Cartano, Sky du Mont, Klaus Sonnenschein, Volker Bogdan, Douglas Welbat, Jörg Gillner, Michael Weckler, Robin Brosch, Manfred Steffen, Christian Brückner, Lutz Herkenrath, Erik Schäffler, Knud Riepen, Burkhard Schmeer, Christian Rudolf, Frank Schröder, Oliver Warsitz, Peter Weis, Marie-Luise Schramm, Wilfried Herbst, Fabian Harloff, Oliver Böttcher, Robert Kotulla, Helmut Krauss, Christian Stark, Lutz Harder, Anne Moll, Henry König, Marion von Stengel, Renate Pichler, Margret Homeyer and Eckart Dux all starred in "Tatort".
Ad blocker interference detected!
Wikia is a free-to-use site that makes money from advertising. We have a modified experience for viewers using ad blockers

Wikia is not accessible if you've made further modifications. Remove the custom ad blocker rule(s) and the page will load as expected.